Argo, as creator of the project "Re Creation with Mr Kilowattora, the primary school discovers the waste recycling", always pays attention about the topic of the respect of the environment and the waste reduction.
Italy is already at the top in Europe regarding the waste prevention even thanks to the over 4400 activities proposed for the 8th edition of the SERR - European Week for Waste Reduction that starts in all Europe Saturday 19th novembre and finishes Sunday 27th novembre.
The aim of the European Week for Waste Reduction is the active involvement of citizens, istitutions and companies and also in this edition it has been fully achieved. In 2016 is continuing the positive trend of the actions promoted by each citizen, with an improvement against last year; the actions promoted by the schools are strongly soaring.
Even this year, the actions of the European Week for Waste Reduction are arriving from all the Regions of Italy, islands and smaller region included. These action are related to the topic: "reducing the environmental impact of packaging", that found accession of about 95% of the approved actions. Among these approved topics almost the whole has to do with the waste prevention, consistent with the European waste management hierarchy. Very present, even actions that address the issue of reduction and recycling.
"The European Week for Waste Reduction 2016 in Italy, thanks to the contribute of the Ministry of Environment, Land and Sea, is one of the most good example of environmental communication, inasmuch it contributes to establish the conscience and the practice of the circular economy in our Country",
Barbara Degani, Undersecretary for the Environment commented.
The SERR promotes among the general public a new model of development based on prevention, reuse of materials and waste recycling, putting together public and private entities, the civil society and the Institutions. The European Week for Waste Reduction represents the environmental communication and the most wide campaign of information and sensibilization of european citizens about the impact of the waste production on the environment.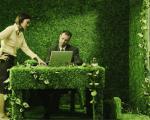 The place where we spend most of our time and one of the places where the waste of paper, ink and...