There are many reasons that speak in favor of the conservation of energy.
We list, below, the main ones:


Each energy consumption is related to environmental pollution; chirisparmia energy contributes to the maintenance of a better environment.


Although today's energy prices are relatively low, by saving energy can save you money.


The economical use of energy also contributes to security of supply. The more efficiently use energy, the lower our dependence on foreign countries.


The promotion of measures to save electricity may be rational for the electricity companies. This way they can possibly be deferred or avoided investments.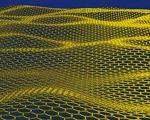 Reference: CNR It is the Italian brand new application of graphene, carbon lattice of the thickness...