Recycle the hardware and computer peripherals is essential for 2 main reasons:
Some types of materials require dedicated procedures for disposal or re-use to ensure the protection of the environment.


The materials of which are composed of these types of products can be reused for the realization of new products, minimizing the amount of material destined for landfills and the need to find raw materials.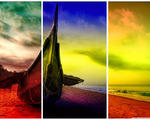 It was born in Rovereto, the first solar-electric boat with low environmental impact, the...