It 'difficult to quantify how many new websites are created every day. This, because every day there is always a number of new domains registered and expired and new hosting account created and / or deleted.
In addition, you may not know if a user is willing to publish your site just because it has registered a domain name or if you purchased a web space.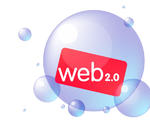 Reference: Shinynews Perhaps we talk about it more than we use it and still it isn't clear for all...