Internet is the set of all worldwide computer networks.


Intranet is a network created for internal communications of a company, used to convey information for internal use profits to the business.


Extranet is an Internet network, which has the purpose of interconnecting local networks in a geographically protected.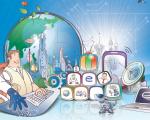 Today more than ever for SMEs are necessary courageous decisions about investments ICT.To cope with...