The made in Italy technology is really able to flabbergast: it is concluding the first trial on a large scale into the nuclear site of Saluggia, Vercelli.
The most groundbreaking technique about the nuclear decontamination and not only improves enormous outlook for a cleaner world and has arrived to an important breakthrough.

Adriano Marin, an engineer from the province of Padua, thanks to his 'Wow Tecnology spa' won an international ban of the Department of Energy of United States with a project for the decontamination of radioactive liquids stored at Savannah River National Laboratory, South Carolina.
All this, only 7 years later from the casual discovery of an extremely secret physical principle of fluid dynamic that allows to convert the radioactive sewage into pure water without filters and with a low production of waste.
The project of historical significance, starts from Este (Padua)and it has all the perfect characteristics for the revolution of the purification and cleaning practices of radioactive water. From Padua to the Fukushima disaster: it's a short trip.

Some year ago Adriano Marin, 51 years old, electronic engineer at Padua University has started to build a prototype for a 'purifier' with some collegues, into his garage.
'We started trials and projects for humanitarian grounds because, this system was born in order to help the inhabitants of those places on the Earth where they haven't drinkable water yet.'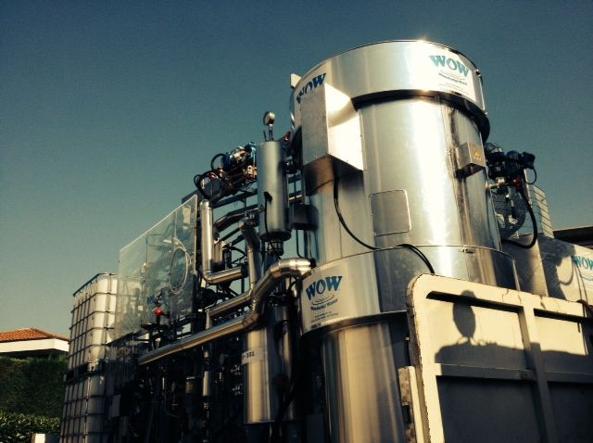 Build, unmount, try and try again, change and turn on once more, turn off and purify, they discovered that the 'purifier' could separate the molecules constituting water from any other element, without using filters and chemical substances (and not only mud, dirt, metals, flying pollutants or other polluting substances). The apparatus, that someone has sadly defined like "a sort of washing machine" is able to separate water from the other radioactive atoms.
Adriano Marin, executive of Riello group and then founder of the Cross Technology consulting enterprise, should have talked about a resounding invention after many years of studies. On the contrary, he sincerely admits:
'The discovery was only a fortuitous accident and we spent 2 years to understand what was the physical principle that brought that result'.
The system, called Wow (Wonderful Water) has been improved and tested long by the Arpav laboratories of Padua, by Cnr, by Pavia University and by the Laboratories of applied nuclear energy and it has obtained all the needed certifications (in this moment also the National Physical Laboratory of united Kingdom is certifying the results). Wow is a world-wide patent, today.
In Saluggia (Vercelli), in the area in which there is Agoadro, the super-controlled storage of nuclear waste, the last trial is a work in progress. Wow is technically a molecules separator and it was built in a bigger version. Since September 23rd, it has turned 45.ooo liters of radioactive liquids stored in 2 silos into pure water. When it will finish its work totally, there will leave only 10 liters of insubstantial concentrated of all that contaminated liquid. This will be the most concrete proof of the enormous abilities of the machine, in many sectors, starting from the nuclear one.
Made in Italy
A made in Italy invention thatdeserves the Nobel price also supported by a group of foward-looking donor and made possible by a tight-knit group that shares the spirit of the project, the realization of something useful for this society. Now, Wow is looking for each of its applications, of some Italian partners (if possible) that want to sell this product on the market.