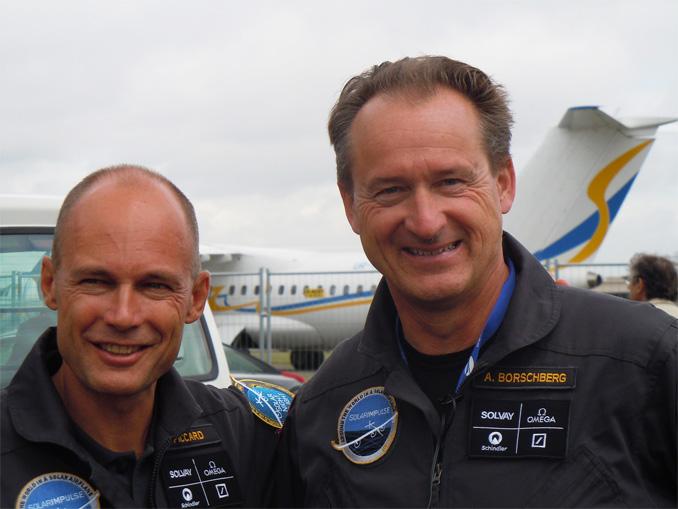 Good news for the titanic programmed by Bertrand Piccard and André Borschberg. The creators of the solar aircraft will be able to start with a light heart to the first round of the World with Solar Impulse 2, planned for 2015, after the first test flight was successful.

Solar Impulse 2, the most advanced and reliable model of the first solar-powered plane designed by Piccard and Borschberg, yesterday flew over the skies zero-emission beating all expectations. The solar plane remained in the air is in fact far more than expected.
The technical team had thought at first flight lasting about an hour and forty-five minutes, while the aircraft was able to fly for half an hour longer , for two hours and 15 minutes.

To drive the solar plane in its first official flight was the German rider Markus Scherdel, that after the test has expressed optimism and confidence for the enterprise in the program next year. During a press conference at the air base of Payerne , headquarters of the Solar Impulse team , in central Switzerland , Scherdel said:
"Everything went as we had planned. Certainly , it will require further testing, but it is a good start and I can not wait to fly it again."
Solar Impulse plane is a 2 -seater light, weighing just 2,300 kg, but has a wingspan of 72 meters and a walk of 3.8 cubic meters that allow aerodynamic performance and unprecedented efficiency for a solar aircraft . The aircraft is powered by 17 000 solar cells.

In March 2015, the aircraft will fly around the world, for a flight of more than 120 hours without stopping for a total of 5 days and 5 nights. At night , however, the speed will be reduced to 46 km / h to avoid wasting too much energy . 2 Solar Impulse takes off from an air base in the Persian Gulf and will follow a route through the Arabian Sea, India , Burma , China , the Pacific Ocean , the United States , the Atlantic Ocean , Southern Europe or North Africa, before returning to the starting point . Certainly follow with interest the development of the next test , waiting for the big enterprise.