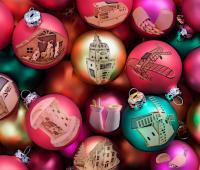 Outlet of solar toys, ecological gift ideas and decorations for Christmas on e4e.it
Please note: past event
To continue in time the meticulous work of sensitization about themes of energy efficiency and respect for the environment, Argo continues to update its solar toys presented on the online catalog e4e.it, to make them more attractive and eco friendly!
So, in collaboration with Mec srl, both companies have decided to move further to the navigators offering a dedicated page at the Outlet, moreover during christmas time.
Unlike the goals of many other realities, e4e would be a means of increasing awareness for users, starting from the youngest people, believing that, especially during the holidays, it is important to "be good" as the tradition, but not limited to the next, even towards the environment and nature.
Here is the section devoted to the outlet of e4e presents eco-friendly Christmas decorations, Christmas gadgets and ecological gift ideas in wood as kits containing various types of compostable items for school, office and desk, always useful, but especially products solar-powered eco-friendly!
Hurry to visit the OUTLET PAGE, and do not forget to leave your comments to help us improve our products even more eco-friendly!