Penalized web sites unresponsive by the new Google algorithm update.
Excellent statement ... but in plain English? Basically, what that means?

First, Argo should start from the definition of "responsive", used term now common, but, perhaps, not yet clear to all. So, what is the meaning of "ite responsive?

A website with responsive design (RWD), is a site developed with a web design technique that can graphically and automatically adapt to the device, the content you are viewing.
It arises from the need to make web sites accessible by any device and screen resolution: tablets, smartphones, computers with different resolutions, phones, web TV, are nowadays the main devices on which we spend much of our time.
Then, a graphic adaptation and functional websites for this kind of devices allows a simplified navigation, bringing many benefits to the user, who can say goodbye to the so hated zoom (thumb and index thank you!) and the uncomfortable scrolling content with the classic sidebar: thank to a responsive website, we will find the various contents adapted and comfortable to see.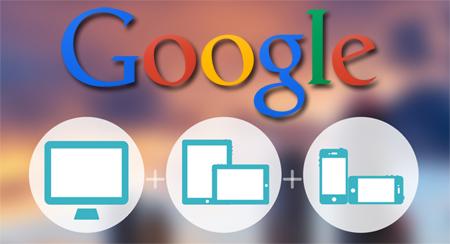 Defined this, you can say that, yes, nowadays, a third of visits arriving on our sites come from mobile devices with relatively small screens and used most of the time in touch mode.
It is from these small hardware users navigate the pages, read the articles, fill forms, viewing gallery and downloading useful documents.
The novelty of Big G arrives "like clockwork" because, though until a few months ago to have a responsive site was an option to enhance its website,
TODAY WHO HAS A WEBSITE WITH NO-RESPONSIVE DESIGN, COULD LOSE POSITIONS ON GOOGLE!
As mentioned at the beginning of this article, "responsive" is synonymous with "adaptable", which means "able to respond to the type of device through which you access"; infact, the site responsive maintains the same number of pages, the same images and the same content but to view them differently depending on the screen size.

Careful not to be fooled by the thought: "responsive" is synonymous with "unpleasant" and "difficult to navigate"! ... Absolutely NO!

Indeed, in many cases are no-responsive sites also practical and functional on smartphone. Indeed ...
GOOGLE IS THE MIXING OF THE CARDS ON THE TABLE, NOT USERS!
Into the big G's blog appeared an important news according to which,
from 21 April 2015, Google's algorithm that evaluates the websites will be changed and will foster placement sites responsive.
In conclusion, we pass by the "optionality" of a responsive design to a kind of obligation on the part of Google that those who doesn't fit, is in serious danger of being cut off losing positions in the ranking (search engine optimization).

In doing so, Google is pursuing its "campaign of fa
cilitation of user navigation" because, as always, his goal is to improve and regularly change the algorithm to reward sites fast, easy to navigate, complete with consistent content, relevant and valid.
Today, it adds a criterion more complex to go along and turned to a new generation of users. GENERATION OF MOBILE.
As actor of the scene in this picture, Argo continues to monitor the changes and updates to the rules of Google (applying them also to our website argoit.com recently online in the new responsive version for mobile devices!), not just because he wants to completely evolve with the web and with the various types of communications but, because our "breadcrumb trail" is to follow the news and the most interesting trends market, analyzing, testing and comparing the best solutions to be applied to your projects, with its meticulous attention to tailoring.
THE RESPONSIVE DESIGN IS THE BEST INVESTMENT OF POSSIBLE TIME!
To assess and plan your RESPONSIVE NEW SITE, CONTACT US NOW!
We are at your disposal!