Argos has always tried to offer services aimed at raising awareness and empowerment of citizens about nowadays issues such as energy efficiency, the production of energy from renewable sources and the respect of the environment.

As the Strawberry Energy writes, a well-known company in Belgrade,
"The best way to raise awareness on the issues of clean energy is to present their benefits through the practical example"
with the aim of
"demonstrate that these technologies ' green ' is no longer an abstract concept."
The only way to bring citizens nearer to energy efficiency is through hands-on experience , making tangible the means by which they prove that the concept of "progress" is not an abstract concept but a concrete concept to everyone.

So here from Serbia come the public "green" stations for recharging mobile phones and more ...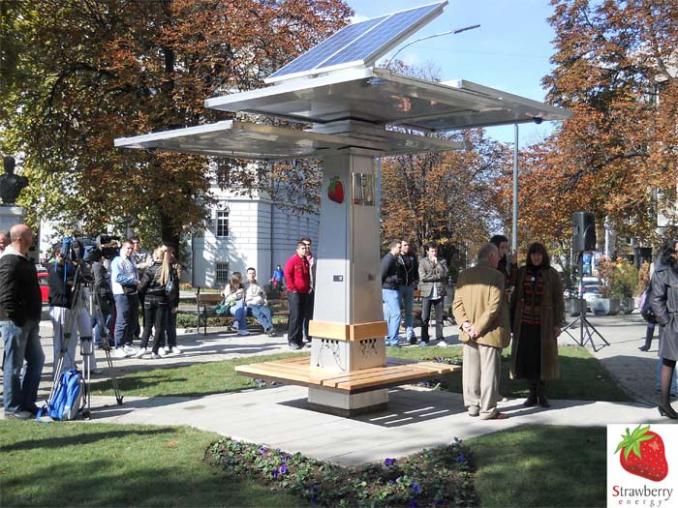 Entering the merits, to educate people on the benefits of renewable energy, from Serbia arrives a project carried out by the Strawberry Energy, aimed at making the "clean" sources more accessible in the everyday life of the citizen. They are called "trees" and it comes to solar systems that recharge mobile devices citizens with solar energy.

These innovative solar stations, developed for the time in five different models, are designed to be permanently installed in crowded public places.
Currently have been installed in Europe 12 " trees charge" , to be exact 10 in Serbia and in Bosnia - Herzegovina 2 . Each tree has 16 solar usufruibili cable to recharge the energy of the sun every type of mobile device, mobile phone music player, going through the ebook or tablet.
The solar stations, in some cases they can also serve as a hotspot to connect to Wifi .

As reported Huggher Tree , the Strawberry Energy has recently signed a distribution agreement in the United States with a California company that could now open the door for a wider distribution of trees to solar charging.