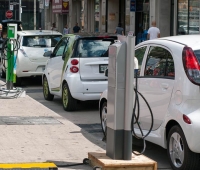 Electric cars and historical city center: in Norway, the boom of electric vehicles
Please note: past event
We have often talked about electric cars and "zero emissions", so, we want to offer you this article about Norway, a State very far from us but that could be, perhaps, a useful example to follow, after being reviewed and readapted to make Italy always greener and greener.

The capital, Oslo, teems of about 600 thousand inhabitants and 350 thousand cars on the road; in the internal area of the ring road work about 90 thousand people, but residents are just over a thousand.

So, Oslo decreeded that it will ban the cars into the historical city center by 2019. A very important change because, if you think, Norway is on the one hand the biggest producer of petrol in Europe and on the other hand the State with the highest percentage of electric cars: a still low number (2% of the total) but it covers more than twice the European average and, moreover, it is always in exponential growth, if you think that last year the 14% of registered vehicles in Norway was electric.
This "plan on cars" will make the norwegian capital the first in Europe to carry out such a mesure, as announced by the local authorities. This announcement has been diffused by the new red-green junta, winner of the municipal elections (Labour party, the Socialist Left party and the Greens party), which promised to halve in 5 years the emission of CO2 compared to 1990 levels and to reduce it by 95% by 2030.

The representative of Greens party, Lan Marie Nguyen, declared that
"In 2030 there will be a lot of people driving cars, but these will have to be without emissions."
To encourage the boom of electric vehicles in Norway is not, naturally, only the enviromental consciousness of the Norwegians but also the generous tax exemptions of which electric cars can enjoy, compared to the traditional ones that discount, on the contrary, a charge between the highest in the world, starting from a super-tax on the purchase.
The plan on cars provides for the year 2019, incentives on the purchase of electric bicycles, the realization of almost 60 kilometers of cycle paths and a significant investment in public transport.
Between the most skeptical categories, not to say "worried" by the new measure because many as 11 of the 57 shopping centers of the capital are located within this central area, are the merchants.
No fear instead for cars carrying disabled and for vehicles that that have to deliver goods in the center.
Furthermore, the 3 political parties made us to know that buses and trams will continue to serve the center and that will find agreements and ad hoc solutions to satisfy all the requirements of the case, in the best possible way.