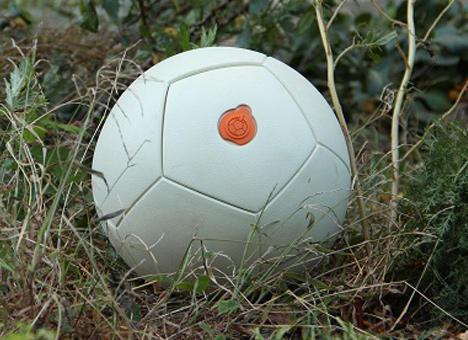 Football is the most popular sport in mond , a world in which there are still people, not to mention the people who still live without electricity ... here is the idea became reality : "to unite business with pleasure !"
"Sustainability can be fun: 30 minutes of game produce 3 hours of electricity"
Jessica Mathew, 25 years Nigerian who lives in the U.S., has developed a new soccer ball that generates electricity ... an exceptional form of alternative efficiency and a magical gift to her Nigeria.

Presented at the State House in Abuja, Nigeria, in front of President Goodluck Jonathan, the invention of J. Mathew is able to generate three hours of electricity after just 30 minutes of the game with the magical "ball", protagonist of the most popular sport in the world.

The electricity produced by the use of the soccer ball, called "Soccket" (official website of the product), it can be stored for three days and be used as electricity for domestic use. Through the kinetic energy produced by the use of the ball, you can store energy in the coil placed inside the ball.

How to tell the same Jessica Methew, the game of football is one of the most popular and practiced sport in the world. The goal is to maximize your enjoyment that people derive from the game of football. Like Nigeria, for example, the country of origin of Jessica Mathew, where football is widespread as much as the lack of electricity.