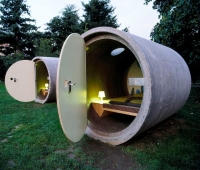 Accommodation and rooms in cement pipes: new types of sustainable architecture and energy efficiency from the World
Please note: past event
... SUSTAINABLY FROM CHINA ...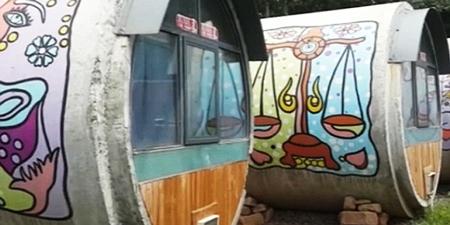 Yes, it is a real hotel ... or rather, a "Recycled-hotel", the singular idea came from an enterprising hotelier of the central-eastern province of Henan in rural China, which has very thought to try tourists the real campaign in one of the largest, polluted and densely populated provinces in China.

The Recycled-hotel consists of several rooms inside of cement pipes, far removed hundreds of kilometers from luxury hotels and spas. To achieve it is enough to cut into fifteen sections a sturdy piece of masonry circular.

This gave rise to the mini apartments that can accommodate two people and equipped with a double bed ... in the eyes of some, an arrangement of this type may appear too rudimentary, yet not lacking modern touches such as air conditioning or creations of street art painted on the exterior walls.
... ARTISTICALLY FROM AUSTRIA ...
Despite its minimalist, no-frills, this unusual outpost is proving to be very popular among tourists as a new form of sustainable architecture that seems to have taken hold even in dear old continent, more precisely to Ottensheim, Austria, where you can sleep in cement pipes placed in a campsite like facilities for reuse.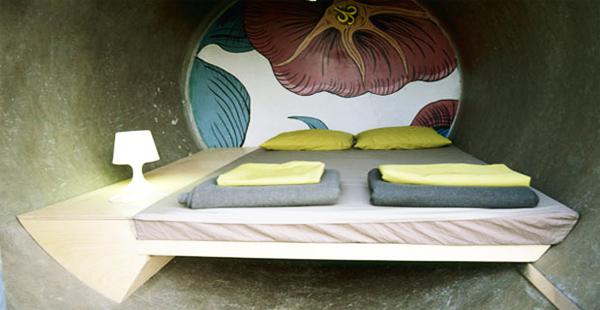 An idea materialized in 2006 by the Austrian architect Andreas Strauss, not so much to enjoy nature and the countryside as in China, but rather to raise awareness and citizenship is the world about the possibility, thanks to the creative ability of man to recycle even the most unthinkable objects. Not only that, the idea is that this can become a way to stay in this city at low cost, in the form, in fact, a campsite, with the bathrooms outside the rooms but inside the park and dining options in the surrounding area.

Strass has decided to create a sort of "theme camp" that included small rooms inside the exhaust pipes in cement recovered and reused in a completely new one. The proposal is immediately interesting given that the materials require little maintenance required after the first cleaning and disinfection initial and date the strength and solidity which ensures constant quality over time.

Three bedrooms are well prepared within these cylindrical cavities located in Rodlpark overlooking the Danube: certainly it is reduced to a minimum accommodation with double bed, small room for luggage, electrical connection and lighting, blankets and sheets, but all in a clean and confortevole.Gli environments have also been decorated by the Austrian artist Thomas Ochoa Latzel that made them unique masterpieces.

From the climatic point of view the rooms are not heated and the structure is thus used only in the summer season, in which the thermal inertia of the cement, ensures a comfortable interior temperature at all hours of the day.

... ENERGETICALLY FROM MEXICO ...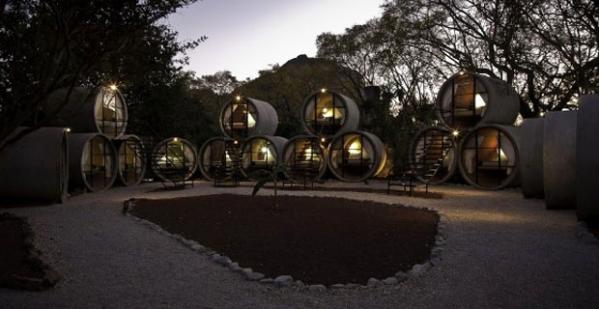 On the basis of this experiment Austrian who has attracted strong interest in citizenship and began to be used regularly by tourists passing just realized, the study T3arc designed a more articulate in Mexico, Tepotzlan that required only three months' work to be completed.

Local climate is certainly congenial to using a technology like this: during the summer, the cement guarantees freshness within while in the cold season, where daytime temperatures were however higher compared to our latitude, irradiation allows a solar thermal storage to provide sufficient heat during the night.

It is a situation not very different from cave rooms. In this case it was made a real hotel where the modules were mostly organized in small pyramids of three tubes with an outside staircase that allows access to the upper level. Again, for obvious logistical reasons, the bathroom is outside the room but overall were organized all the services necessary for the operation of a hotel.

It is a safe example of existenz-minimum, however, that this complements the theme of recovery of a material in the production phase energetically very expensive and often used for relatively short periods and then disposed of in landfills: an interesting example of creative recycling.