Today more than ever for SMEs are necessary courageous decisions about investments ICT.

To cope with the difficult economic situation we need to rethink the processes, make faster decisions and collaborate more agile inside and outside the organization. The new generation of Microsoft technologies is precisely to help companies deploy their potential in terms of efficiency and productivity. By combining the various components it is possible to build effective solutions, scalable, and low cost, as well as able to bring tangible benefits in several respects: the protection and exploitation of knowledge, reducing management complexity, more control capability, lower cost of ownership.



Dedicated to the operators of the ICT and designed based on the successful initiative in Master server, "Master in solutions" aims to offer Microsoft partners a new training opportunity, expressly relied on a "solutions".

Master in Solutions was founded precisely because the partners play a role of driver of technological development process, especially for smaller companies, and should be able to tune the potential of IT tools with business needs, explaining the benefits to business decision makers in terms of performance that would result from appropriate choices of innovation.

Participation is indicated for both sales managers, both for technicians involved in the implementation of projects at customer sites, and the wealth of application examples will enable both parties to acquire practical skills and be spent immediately in the sales cycle.

The events:

April 22 in Rome
May 15 in Padua (Argo will be there !)
May 16 in Milan
May 23 in Turin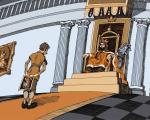 The Swiss Crime Prevention organisation (SCP) is committed to raising prevention awareness...