The Communications Division of Argo Verona operates at 360 ° in the field of Information Technology (IT) and technologies related to the internet! A big chunk of the internet world today is led by social networks like Twitter, Facebook, LinkedIn, Pinterest, Instgram and many more!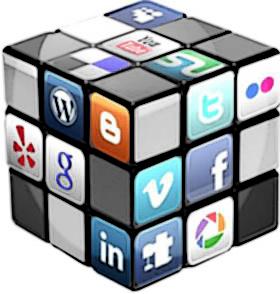 Could not escape the staff of Argo an interesting news and least sympathetic to the effect that, according to research agency LiveXtension, social in Italy can be as much as 3% of the U.S. with results that determine the difference between the 2 nations is mostly represented by over 50.
The BelPaese can be considered definitely the King of Social, at least most of the noble United States of America. As mentioned previously, according to research agency LiveXtension, Italy is more social than many countries in infrastructure certainly possess technological improvements.
Comparing the data on the user's Internet American Pew Research 2013, with those of Audiweb shows that the penetration of social networks in America is 72% and Italy 75%.
There are 20,597,000 Italians use at least one site between Facebook, Twitter, LinkedIn, Tumblr, Instagram and Pinterest. The important thing is that the difference between the two nations is largely due to the fact that the older population is much less than elsewhere digital general use of the web, but when you log on is almost always on social.
Over 60% of Italian users in fact older than 64 years have an account on a social network, while in the U.S. is only 43%. As for the age group lower, between 50 and 64 years, 60% of Americans use social, while in Italy it is 75%.
A further verification of this phenomenon was carried out by LiveXtension comparing the data for the month of July 2013 Nielsen USA and Audiweb regarding the use of social networks. Although there is some difference from the Pew Research data, the gap remains.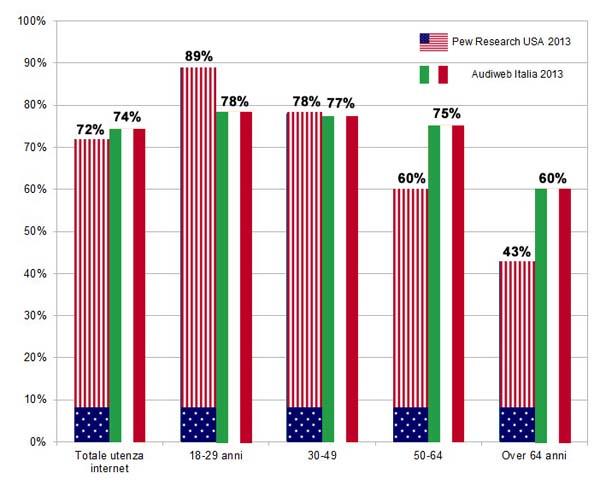 Also interesting to observe how the Social Network for excellence, Facebook whichever is the head of the class with other platforms to follow, including Twitter and Instagram in the first place. There exists a remarkable vitality from other platforms, which leads them to have numbers and spread very significant: the share of Twitter is 15.24%, Linkedin is 18.6%, 12.86% Pinterest, Tumblr all '11, 56%.