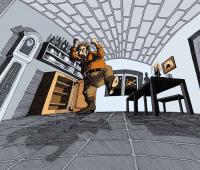 Fairy tales teach you how to protect yourself from the dangers on the Internet: data protection and identity theft
The Swiss Crime Prevention organisation (SCP) is committed to raising prevention awareness throughout society as a whole. Responsibility for this lies not only with the police, but also with politicians, other national organisations and offices, non-governmental institutions as well as business and the media.
It is of particular importance the easiness for the public and the private to indicate:
suspicion of illegal content on the Internet
suspicion of phising
suspicion of paedosexual tourism
suspicion of trafficking in human beings
thanks to the modules without login in the official website of this Institutional Authority, as you can see in the following screen shot.

An interesting example of prevention awareness is the retelling of 5 fairy tales that represent 5 current and daily problems. These retelling tales have been though by the SCP in order to helps the parents of the children under 12 to make known to their children the pitfalls that could be hid in the Internet, warning them of the risks that can run on the network and accompanying them in their online activities.
We present you, in different news, a revisited tale, one at a time, whose develop is extraordinarily effective thanks to the alla smoothness of the text and the simple moral presented at the end of the story by the PSC.
To make each fairy tale more pleasant and effective, the SCP made available the tale told with a video and a pdf document. We want to propose you all this and we also thought to separate the pdf document into different parts. Each part is a revisited fairy tale and we will published it in each single news.
In this "first publication", the danger of the Internet proposed is revisited in the story of "Ali Gaga and the 40 passwords"... have a good vision or good reading!
All the fairy tales are in italian so you can visit the SCP website and chose the language you prefer. http://skppsc.ch/cms/it/cera-una-volta-internet/.