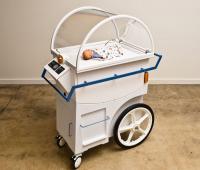 Incubator built with car parts to guarantee a future to developing Countries babies
Please note: past event
Every year over 4 million infants in the developing world die within a month of birth. Half of these newborns would survive if given a warm and clean environment in which to grow stronger. In developing countries, not only is there limited access to modern, high-tech incubators, but a lack of infrastructure and replacement parts render such devices worthless.
NeoNurture takes advantage of an abundant local resource in developing countries: car parts. The incubator leverages the existing supply chain of the auto industry and the technical understanding of local car mechanics.
The incubator uses sealed-beam headlights as a heating element, a dashboard fan for convective heat circulation, signal lights and a door chime serve as alarms, and a motorcycle battery and car cigarette lighter provide backup power during incubator transport and power outages.
NeoNurture has been featured in exhibits and publications worldwide. It was listed as #1 in Time Magazine's 2010 issue, "The 50 Best Inventions of the Year" was featured on ABC News and CNN, and was showcased at the Smithsonian Cooper-Hewitt Design Triennial in 2010.