Source: Rinnovabili.it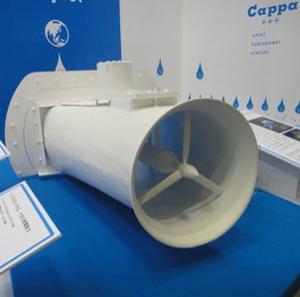 The hydro power is once again small and compact to challenge those who believe that technology can not give anything new. The Japanese company has created Ibasei "Cappa", a system of water use specially designed to be installed along a river or stream. The design at the base of the device is not a real novelty, however, the unit has a special, called diffuser, able to increase the speed of the water flow through the blades, to extract more energy than is actually contained by 'incoming water. Then a regulator and a battery attached to the device are such that the owner may dispose of 100 V at 50/60 Hz.
"With the water flowing at 2.0 m / s, - the company said - this system can produce 250 Wh. Taking into account any power loss, five of these mini turbines are able to provide about 1 kW of capacity , and to be useful as power supplies in emergency situations".
As reported by Ibasei, as this system is based on the natural current of the watercourse, its operation is practically 100%, and the machine itself is totally recyclable.
"Basically, it is a source of energy for local consumption [...] It can store energy as a charging station".
The company is finalizing the control test expecting to launch the product on the market in the spring of next year.