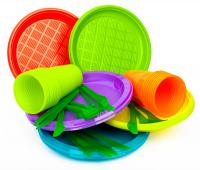 Stop the plastic in disposable tableware from 2020 in France and green light for the eco-friendly materials
Please note: past event
Argo has often talked about topics related to environmental protection and ecology, turning to the world of adults but also to the world of the children and through their daily actions should educate them.
All this, thanks to the educational project "Re Creation with Mr Kilowattora, the primary school discovers the waste recycling", a project that addresses to the primary school that want to deal the topic of the recycling, as well as a daily thematic, raising awareness among their students (and citizens of the future) about the recycling of materials.
Widening the geographic spectrum out of Italy, an action to be taken as an example is presented by France that 'says goodbye' starting from 2020 to the plastic disposable tableware through a law which came into force on 30 August. It forces the replacement of the disposable plastic tableware with biodegradable.
French people will have to replace the plastic plastic plates, cups, plastic cutlery and disposable, shopping bags of the same material, with eco-friendly and biodegradable materials in order to the protect environment.

In 2020 will start the ban on production, selling and even free disposal of the plastic disposable tableware and producers have until that date to replace them with products realized with biodegradable organic materials, bio-based (ie from renewable sources) for all or part of.
Every year France produces 4,73 billion of plastic cups and only 1% of these is recycled. Many European Countries and also some countries in USA have already applied solutions against the plastic "shopper" but only France is the first to take so important actions against disposable plastic tableware.

Enzo Favoino, scientific coordinator of Zero Waste Europe is one of the most important expert about the management of post-consumer materials, reduction and recycling. He is always careful to the topics related to reducing plastics and industry standards for their replacement. He says, in an interview of ecodallecitta.it:
"France is the first country in the world that prohibits disposable plastic tableware and this is surely an important effort. By working always in order to overcome the culture of "throwaway", we can only be happy for this very important signal and we hope that it is soon followed by Italy (first country that applied the prohibition of plastic shoppers) and also by other countries."
We welcome the hope of Favoino, hoping that, indeed, this signal is taken literally and followed very soon by Italy.